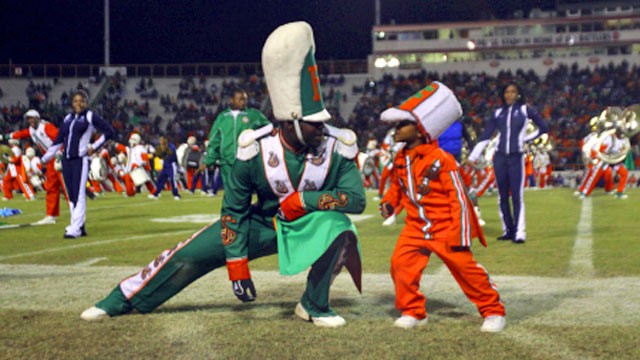 Just hours before his death, Robert Champion performs with the FAMU Marching 100.
By Jennifer Dickquist, Juris Staff Writer
In November 2011, Robert Champion, a member of the Florida A&M University's Marching 100, was the victim of a "hazing ritual" on a bus on the way to a football game. This ritual involved running from one end of the charter bus to the other end while other members punched, kicked, slapped and stomped him. Within an hour of the attack, as a result of the blunt force blows, Champion died. Then, in January, three students from the same marching band were arrested for performing a hazing ritual on other prospective members of the band. Again, the ritual involved slapping, paddling and punching. While those three students have been arrested, no one has yet been charged with the death of Champion, even though the bus was filled with witnesses. The parents of Champion have filed a wrongful death suit against the bus company and the driver of the charter bus.
While almost every college organization has a "zero-tolerance" policy for hazing, every year more than 50 percent of college students participating in a student organization such as sports, performing arts, fraternities and sororities are subjected to hazing. Hazing is defined as any forced activity that is physically dangerous or emotionally degrading and required in order to gain membership into an organization.
It is an all too common problem that the individuals who are responsible for hazing deaths go unprosecuted even when substantial amounts of evidence may be available.
While Champion is the most recent example, there have been many other cases in recent years. Following the death of George Desdunes, a 19 year old Cornell sophomore in February 2011, Marie Andre, his mother, filed a wrongful death lawsuit against the fraternity that was responsible for the death. In January 2012, a Dartmouth student brought his complaints to the University's administration and claims the University did not adequately respond to his allegations.
Hazing is a problem that is under-reported and under-prosecuted. Pennsylvania's own hazing law is vague. It establishes hazing as a misdemeanor in the third degree but does not provide any true remedies for victims of hazing. The law, P.S. § 5353-5354, provides a definition for hazing and requires that institutions of higher education establish protocol for individuals who violate a university's policy. This law seems inadequate, considering that hazing can sometimes result in serious and permanent injuries and, in some cases, death. These laws need to be reworked in order to better establish appropriate punishments for the crime of hazing. Civil remedies, such as wrongful death suits, cannot be the only potential avenue for these families to receive justice.
More information is available at
http://www.stophazing.org
.
Jennifer Dickquist is currently a 2L at Duquesne University. She is a research assistant at the Duquesne Center for Legal Information and a part of the Bill of Rights Clinic. Jennifer earned her undergraduate degree at LeMoyne College in Syracuse, N.Y. with a major in political science. She will graduate from Duquesne Law School in 2013 and can be researched at dickquistj@duq.edu.